How Long Does the Water Damage Restoration Process Take?
2/6/2023 (Permalink)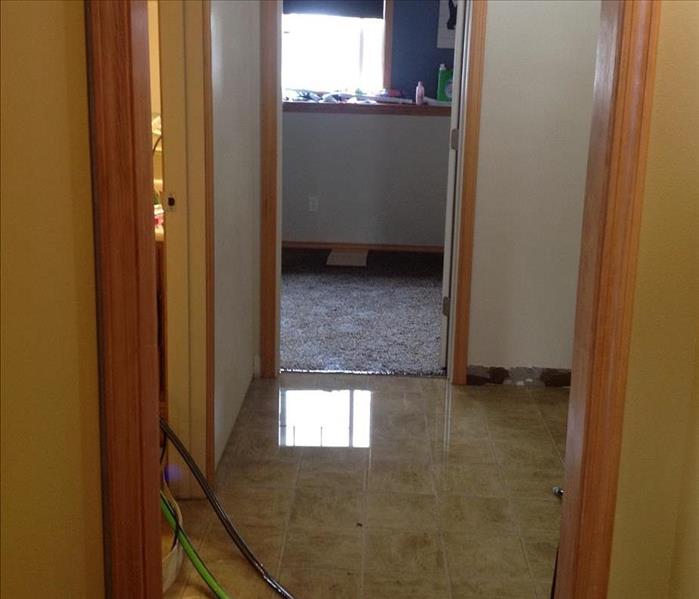 Experiencing a water loss on your property is hard enough. Not knowing when everything will be back to normal can cause even more stress.
Experiencing a water loss on your property is hard enough. Not knowing when everything will be back to normal can cause even more stress. You want to get the cleanup process started quickly, but you also don't want to rush into anything that could cause more problems down the road. Unfortunately, there's no way to tell exactly how long it will take for everything to be fixed -- that depends on many factors. That said, here are some things we can all agree on:
It's Impossible to Give an Exact Timeline
The length of time it takes to complete a restoration project is always going to be dependent on the extent of the damage. In some cases, the majority of water removal and drying can take place within 24 hours, while other areas may require weeks before they're ready for repair work.
The longer it takes a home or business to dry out after a water loss event, the more extensive damage there will likely be as well. The same goes for how long repairs take; if there are multiple damaged areas in close proximity, they could all need repairing at once so that you don't have any issues with mold growing during this process.
Things to Consider
As you begin the water damage repair process, consider the following questions:
How much water leaked into your home? The more water that's been leaked, the longer it will take to clean up.
How long has the water sat there before the cleanup process began? If the water has been sitting for an extended period of time, there could be secondary damages present on your property. Secondary damages, such as a mold infestation, will take longer to repair.
What category of damage is present? The category of water damage refers to the level of contamination the water present has. The more contaminated the water is, the longer the repair time.
How Quickly You Start the Cleanup Process Matters
The sooner you begin the clean-up process, the better. The longer you wait to start, the more damage will occur and the more expensive it will be to clean up. We recommend starting as soon as possible after a flood or leak happens because mold can grow within 24 hours of a water disaster. It's important to call in professionals right away so that they can begin working on your recovery before additional damage occurs and before mold takes hold.
The More Damage Present, The Longer Repairs Will Take
The extent of the damage will determine how long it takes to restore your home. For example, if there is extensive damage throughout your home, a water restoration project may take longer than a project that involves only one room.
In the end, it's impossible to give an exact timeline for how long the clean-up process will take. If you're having a hard time solving your water damage problem on your own and are looking for a water cleanup expert in Prescott, AZ, our SERVPRO of Yavapai County team is here to help!